Harry Quach
UI / UX and Branding Designer
Swift Meet
Meetup, Chat, Make Friends and schedule all things university.
Introduction & Objectives
The purpose of the app will focus on the users University Life. I have a rough idea on what I want the application to do. I believe a focus on a relationship based application could benefit a lot of students.The Objective of the app will focus on making new friends from the same university and maintaining the relationships through meet-up functionalities, I am also thinking of adding more club/event functions to make this initial meet up easier, though this will depend on research.
As I have personally struggled with reaching out to friends to see if they are free and making new bonds with other students, I believe this will be a much needed app for other persons like me having these issues. To ensure that this app is wanted, I will conduct interviews with eight students from Curtin University with various backgrounds to understand their own experiences and wants.
Using this information I will conduct an analysis of the answers to incorporate any functions that users may find useful. At this point in research I want to find out the way other students interact with one another, what they do when they want to meet up,how they meet up and how they find making new friends. As each student is different I want to garner a large pool of different personalities to result in the best possible outcome for our execution method.
It is also important for me to acknowledge the knowledge gaps I have when it comes to potential target audiences, I will need to understand not only how other students interact, but how mature age students, international and staff interact with one another. I will need to understand these perspectives and use this research to allow this application to be as friendly as possible for all users. I only know how my personal friends contact eachother, so I need to expand my interviews to find different methods.
User Groups
The general university student is usually around 18-25 years old, with iPad usage being quite moderate. The university student is usually quite social with all age groups but tend to stick to those with similar ages.
Curtin Bentley Demographic of Students 2016: 58,216
Student Load: 37,534
International Student Enrollments: 15,926
Females: 32,562
Males: 25,660
Not Defined: 10
Faculty of Humanities: 8,815
Curtin Business School (CBS): 11,855
Faculty of Science and Engineering: 8,512
Faculty of Health Sciences: 12,564
Curtin Learning and Teaching (CLT): 12,708
("Curtin University Student Statistics 2012-2016" 2018)
User Groups
Preliminary Interviews
Before I spend time crafting a full interview, it's important to find the fundamentals with some preliminary questions to understand the users and where they study. With the preliminary questions I will begin to create ideas on how the app will work.
Interviews
Example:
At the discovery phase of my project, I conducted user interviews in order to get a better understanding of the problem.
Guiding Questions:
What is your Major?
How often do you use your Ipad?
Do you have access to the internet on Campus?
Are willing to pay for mobile apps?

What is your experience socially at uni?

Tell me a little about yourself

Are you involved clubs or like to be?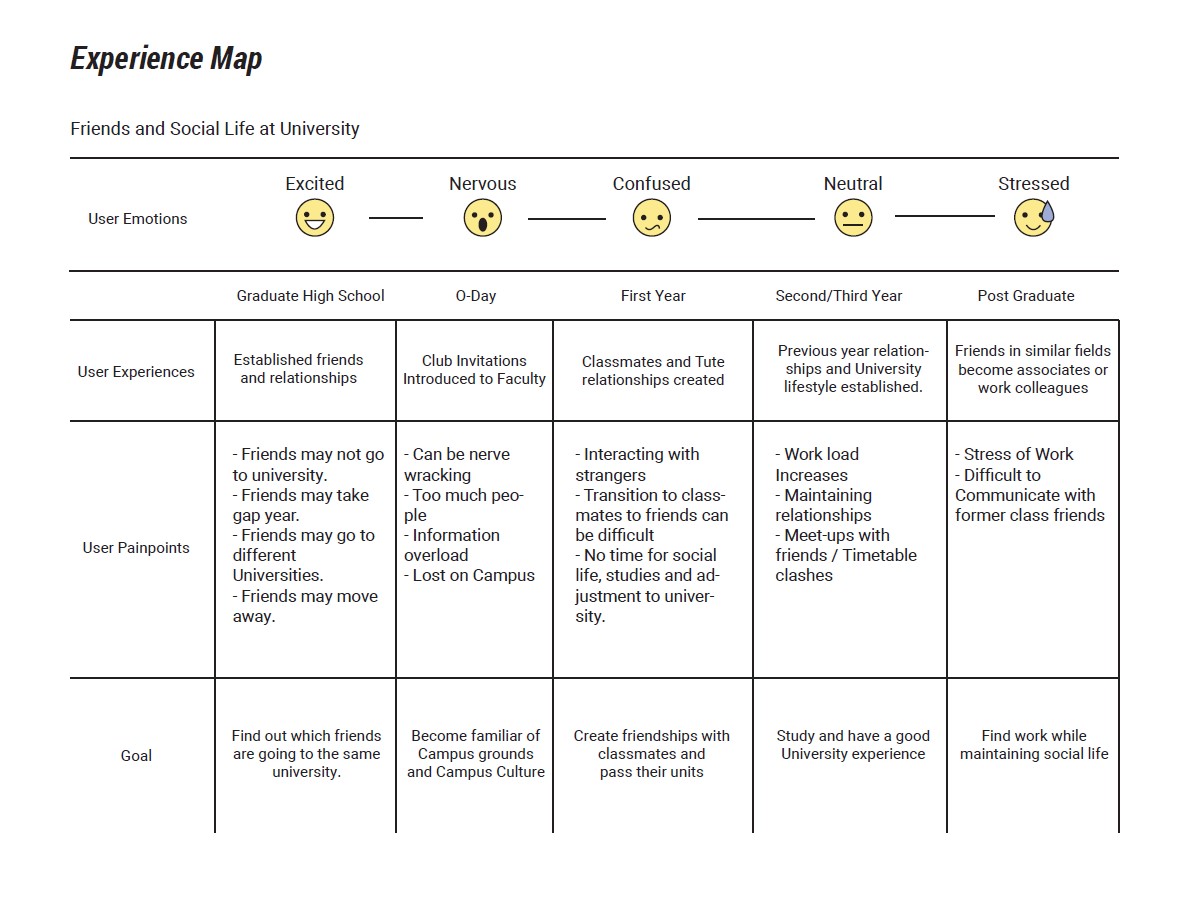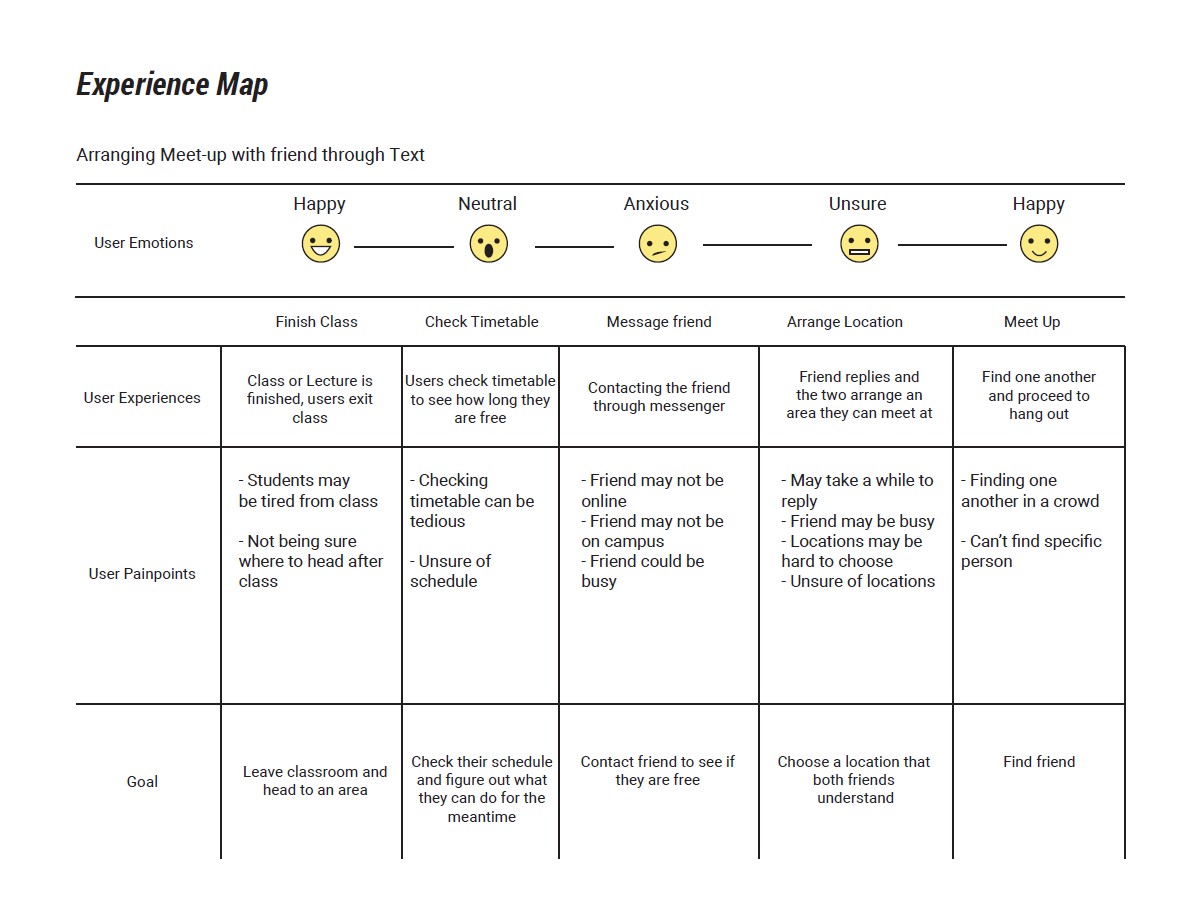 Quick Findings
Related Quotes:
- " Kinda hard because I keep to myself mostly. Most friends I've made at Curtin aren't even in my course because
I've met them through school friends or online which makes it a little easier." SP
- " Yeah I think so, something like tinder for friends would be useful and for uni specifically." ST
- " Yes, its difficult. Mainly due to the classes changing every semester, its hard to build a relationship in such a short time." ST
Implications:
- Making friends can be easier if the people know what they are looking for
- Clubs/Group interests really matter
Design Ideas:
- Friend "Match-Rate" could be implemented
- Allowing users to know other peoples interest is important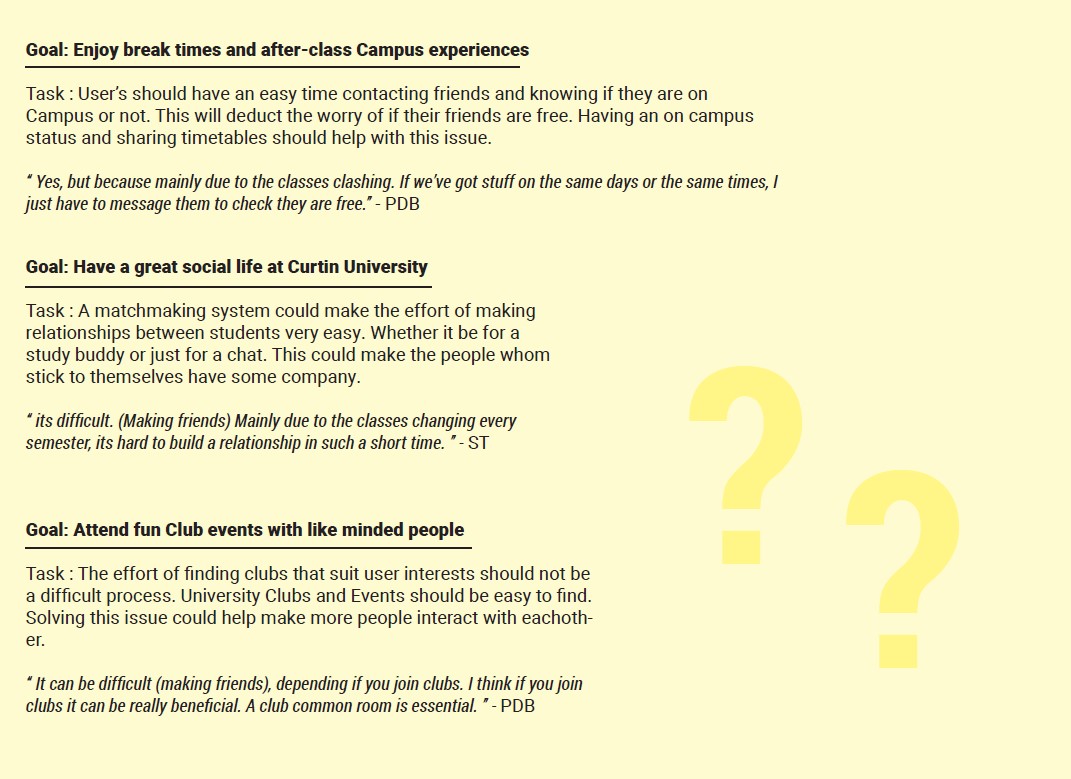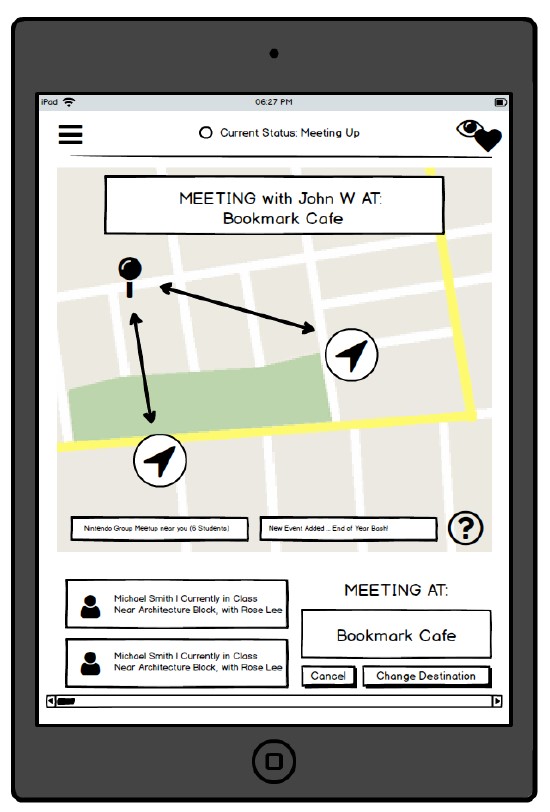 Wireframes
Example
At the beginning of my design process I created wireframes for testing purposes.
Guiding Questions
Why was it useful to do this?
What kind of wireframes did you make?
Low fidelity or high fidelity?
What tool did you use for this?
Did you use them for testing?
How many iterations did you have?
Prototype
I created a prototype for the Swift Meet tablet interface (this was for the basic functionality that we were testing).
We made three different journey for testing based around the three objectives that came though from research and were further developed in ideation.
The prototypes were made using Figma.
User Testing
We had five participants for 10 minutes. Our method was to sit them in front of a laptop, explain the objectives behind the testing and have them carry out three set tasks using the prototype whilst commenting on their thoughts and actions.
The purpose was to identify any usability problems or areas for improvements.
Overall Goal: To test to user experience of the overall app.
Observations
Some users had issues with some of the icons and their meanings

Some only used the app for the messaging/meet up feature
App was usable to an international student
A student constantly went back to the homepage using the nav bar
Users prefer to use a design that feels familiar to current apps
Colour and Contrast were complimented
Task One: Using the Campus Map
What Worked:
It was an easy-to-understand, step-by-step meeting up process
Liked that they could see the status of student
Liked that they could see the location of student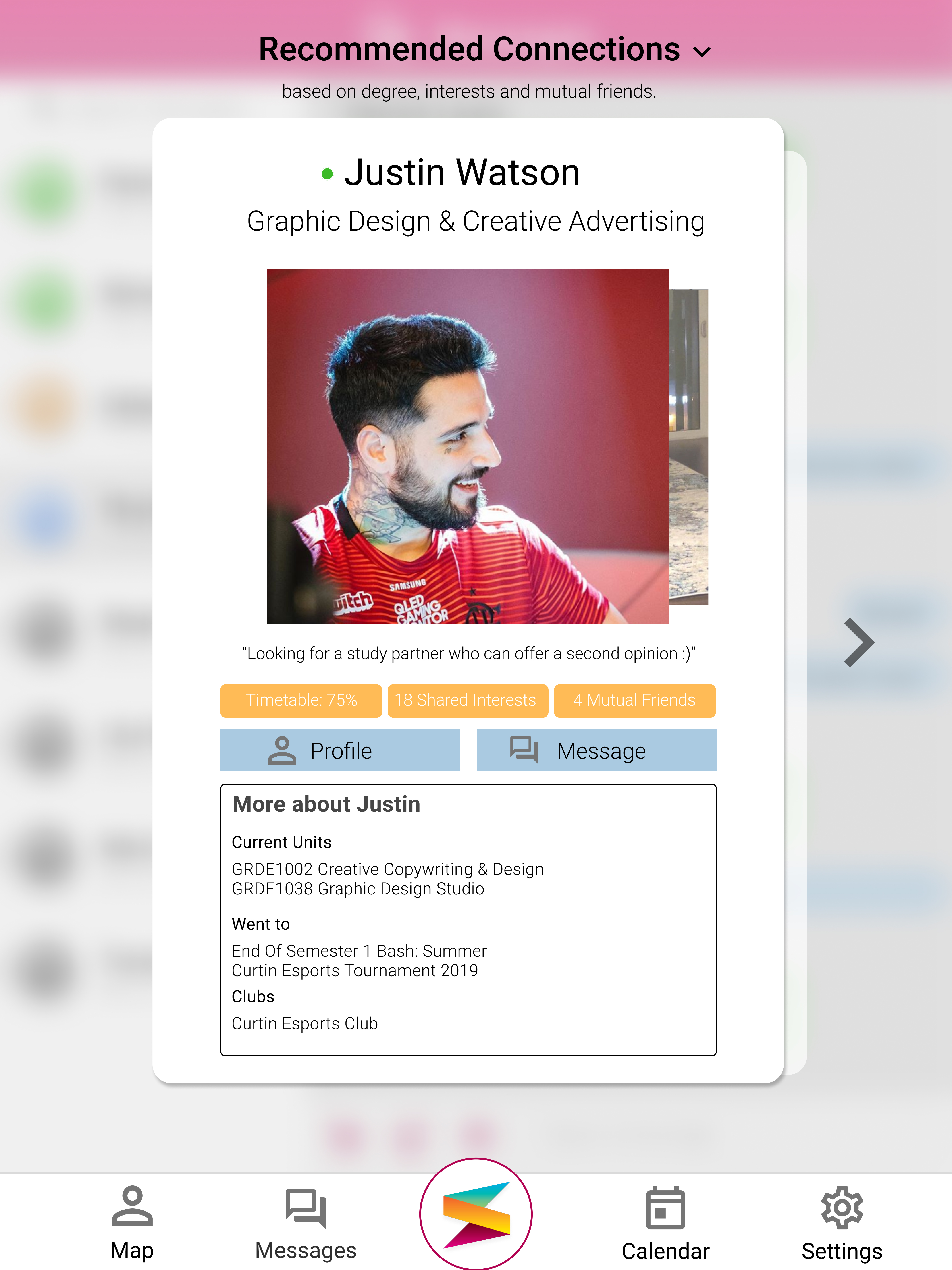 Task Two: Making Friends
What Worked:
The idea of the making friends was good
The overall idea of making new friends in related studies as a features was great.
Liked that they could see and manage multiple students to choose from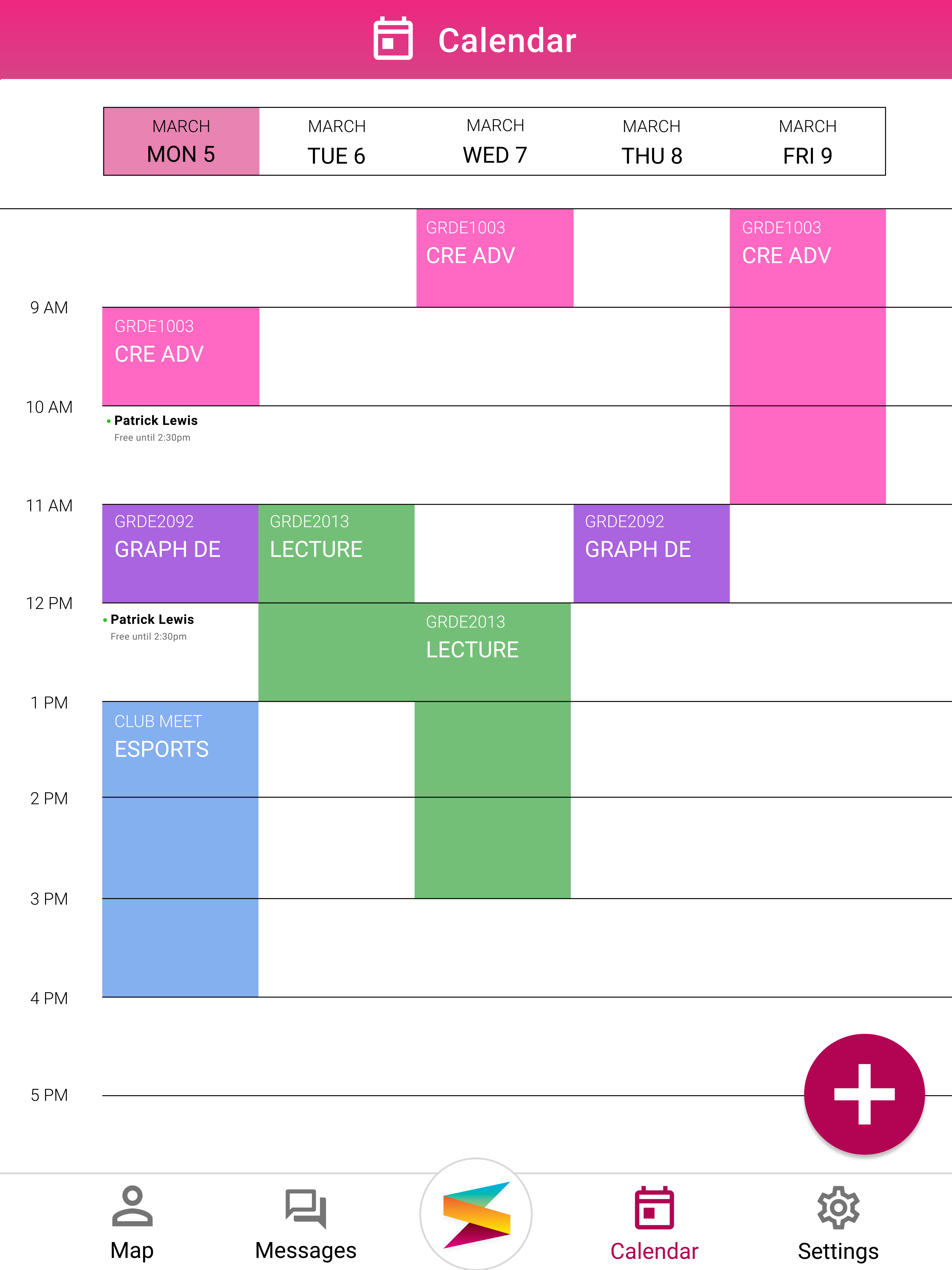 Task Three: Student Schedule
What Worked:
Liked the simplicity and clear layout of the calendar.
Liked that they could go back and edit the days.
Liked that they had multiple colours for each unit.
What Didn't:
Thought that the edit button was redundant because you could edit above
Wanted the calendar to be automated from student account.
Wanted the design of the calendar page to be more distinctive and unique.
Challenges
The design had to go through many iterations due to the user testing feedback and it was quite time consuming. We had many different persona's to cater towards so I made a app was quite general in its functionalities. It was difficult to be unique yet realistic.
Future Opportunities
We would suggest that conducting a second phase of UX research into users needs (e.g. through a few more interviews and a survey among the larger customer base) and acting on these findings, Swift Meet can increase customer satisfaction and trust in the platform, leading to better Word-of-Mouth advertising and organic growth for the platform.